Contact & Location
YOUR HOLIDAY ACCOMMODATION IN SLANO, CROATIA
Slano is one of the most picturesque towns in the Dubrovnik region, located on a sweeping bay over 2 kilometres long, with beautiful beaches, dense pine woods and olive groves and a long cultural tradition and Villa Riva, located in Slano, is the dreamed Croatia holiday accommodation. There are also many monuments dating back to all periods of history, even from the pre-historic period.
The Franciscan Church of St. Jerome is one of the nicest in the region and dates back to 15th century. A road from Slano leads to Zavala in Herzegovina, the location of the famed 'Vjetrenica' karst cave (14 kilometres away). A range of excursions to nearby islands and surrounding towns are easily arranged from Slano.
Did you know how the village of SLANO got its name?
The history of the name Slano is based on a very interesting legend. Namely, the Bosnian queen who was, according to that legend, a very big and fat lady, was riding a mule on her way to the sea. When she came to the sea she wanted to make her mule drink the water, but the mule didn't want. The queen then tasted the water but she screamed out: "It's salty". So that place got the name Slano meaning salty.
Contact us at Vila Riva Apartments
Find us on the map
DISTANCES TO VILA RIVA APARTMENTS, SLANO
ACI Marina "Veljko Barbieri", Slano: 200 m
Dubrovnik center: 30 km
Dubrovnik Airport: 52 km
Ston (historical town): 20 km
Orebic (historical town and ferry to Korcula island): 78 km
Mostar (Bosnia and Herzegovina): 107 km
Split: 195 km
Obala Stjepana Radića 22,
20232 Slano, Croatia
Vila Riva Apartments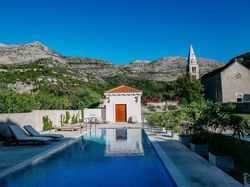 Villa Riva Apartments are located a mere stone's throw away from the crystal blue Adriatic Sea and in the very centre of Slano, a small town situated around 30 km from UNESCO'S protected Dubrovnik Old City.
PERVANOVO d.o.o. za nekretnine i turizam ● MB 1867229
OIB 53640538905 ● PDV broj HR53640538905
Ivana Zajca 26, 20 000 Dubrovnik, Hrvatska ● tel: +385(0)20 362 900
fax: +385(0)20 362 909 ● info@pervanovo.hr ● www.pervanovo.com
Trgovački sud u Dubrovniku / MBS 090010440 ● Temeljni kapital 350.680.500,00 kuna uplaćen u cijelosti
Predsjednik uprave: Darko Pervan / Član uprave: Dagny Ingeborg Pervan / Član uprave: Stjepan Vojinić
Poslovna banka: Raiffeisenbank Austria d.d. Petrinjska 59, 10 000 Zagreb
IBAN: HR2024840081102601511 ● SWIFT: RZBHHR2X