Welcome to Villa Franica in Dubrovnik
LUXURY VILLA DUBROVNIK – VILLA FRANICA
Surrounded by lush mediterranean vegetation on the crystal clear Adriatic Sea lies the luxury villa Dubrovnik, Villa Franica. Seemingly a million miles away from the hustle and bustle the city and yet surprisingly close by, Villa Franica in Dubrovnik offers guests the perfect opportunity for a relaxed break.

This meticulously renovated luxury villa in Dubrovnik presents exceptional comfort with a total of five fully climate controlled rooms located over three levels. Villa Franica is open all year round for guests and is the perfect destination for families or larger groups. Great care and attention has been given to the interior design of the villa and there is a true Mediterranean feel with light colours and tasteful furnishings.
The villa's inviting swimming pool is ideal for keeping cool during Dubrovnik's warm summer months and lies partly in the shade of mediterranean vegetation.
The whole villa is surrounded by beautiful garden with terraces areas of differing sizes and over differing levels that can be utilized in many ways. Breakfast in the morning on the main front terrace in the sun, a party on the large back terrace or lunch around the pool area of this splendid villa in Croatia, the choice is yours. The villa's inviting swimming pool is ideal for keeping cool during Croatia's warm summer months and lies partly in the shade of soaring palm trees. And along with the comforts of the villa there are also all the accompanying services that one would expect of such luxury accommodation in Dubrovnik.
As this Dubrovnik luxury villa is only a few metres from the sea there is a choice of several beaches in the immediate vicinity. Just a few steps away from the villa you will find a sheltered beach with sun beds and sun umbrellas. For those looking to explore Dubrovnik and its picturesque countryside there is the possibility to rent a car, speedboat or even a yacht for an additional price.
Villa Franica is a unique luxury villa in Dubrovnik, Croatia and deserves the motto "Serenity in Seclusion."
Accommodation at VIlla Franica in Dubrovnik
In total our beachside villa in Dubrovnik, Croatia is able to comfortably accommodate nine guests in five bedrooms of which four are double and one single.
Slideshow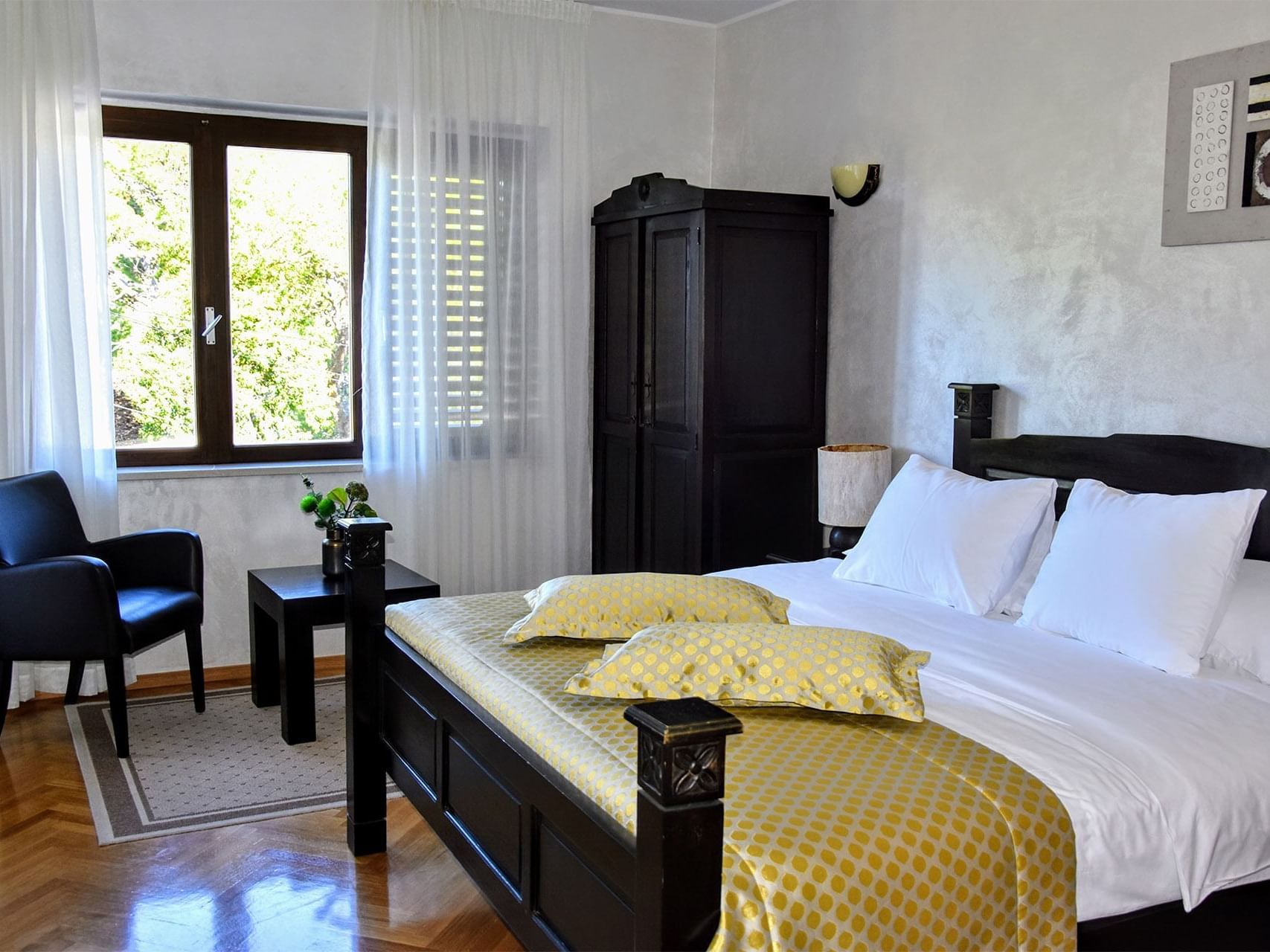 Villa Franica
Category: 4****. Size: 180 sqm house: 600 sqm gardens and terraces. Capacity: 9 guests. 5 Bedrooms: 1st floor: 2 master bedrooms with king size beds 180x200 cm and ensuite bathrooms. 2nd floor: 2 rooms with queen size beds 160x200 cm (one room has a small terrace) and 1 room with 1 single bed.