Contact & Location
DUBROVNIK APARTMENTS OLD TOWN – CELENGA APARTMENTS
Celenga Apartments are ideally situated in Dubrovnik Old City, Croatia. Once on the city boundaries, the impressive arch next to our building used to be the city entrance. In fact the street was mentioned in the fifth edition of the Statute of Dubrovnik in 1272.
Contact us at Celenga Apartments
Find us on the map
CELENGA APARTMENTS LOCATION
Residing within the Dubrovnik City walls presents a unique experience that every globetrotter has on his TO DO list...
Svetoga Josipa 13
Apartment Domino Deluxe House, address Od Domina 2
Celenga Apartments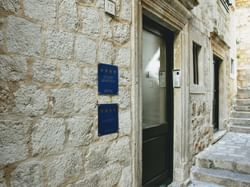 Celenga Apartments are located in a quieter side street in the heart of Dubrovnik Old Town.
PERVANOVO d.o.o. za nekretnine i turizam ● MB 1867229
OIB 53640538905 ● PDV broj HR53640538905
Ivana Zajca 26, 20 000 Dubrovnik, Hrvatska ● tel: +385(0)20 362 900
fax: +385(0)20 362 909 ● info@pervanovo.hr ● www.pervanovo.com
Trgovački sud u Dubrovniku / MBS 090010440 ● Temeljni kapital 350.680.500,00 kuna uplaćen u cijelosti
Predsjednik uprave: Darko Pervan / Član uprave: Dagny Ingeborg Pervan / Član uprave: Stjepan Vojinić
Poslovna banka: Raiffeisenbank Austria d.d. Petrinjska 59, 10 000 Zagreb
IBAN: HR2024840081102601511 ● SWIFT: RZBHHR2X