Welcome to Celenga Apartments in Dubrovnik Old Town
CELENGA APARTMENTS DUBROVNIK - APARTMENTS DUBROVNIK OLD TOWN
The Celenga Apartments, Dubrovnik Old town are a perfect union of the past with the present. Sensitive restoration seamlessly blends with imaginative contemporary design to ensure the building retains its unique character.

In order to make this experience memorable we have dedicated ourselves to designing modern and comfortable apartments in Dubrovnik Old Town with a historic and educative touch. Whether you are looking for an overnight stay, short break, or annual family holiday, The Celenga Apartments will enable you to recharge your batteries, and nourish your body and soul.
The private Celenga Apartments in Dubrovnik, Croatia were once on the city boundaries and the impressive massive arch next to our building used to be the city entrance. In fact the street was mentioned in the fifth edition of the Statute of Dubrovnik in 1272. Over many years Ragusa, as Dubrovnik was once known, expanded and became what we know today. The Celenga building and the surrounding houses used to be valuable and popular due to the water tanks situated below the house. Everyone used to come there to fill a few buckets of water for their daily use. In fact the name Celenga originates from the Ancient Greek word "kelon" which literally translated means the construction for retrieving water from wells. Celenga house itself represents a fine example of Dubrovnik architecture of middle class Dubrovnik merchants and sailors.
When the building was fully refurbished special attention was paid to detail and all the existing structures were preserved, such as the stone shelves, water tank, typical wooden arches and the stone capital or the first floor lounge called "saloča" which was used as a central meeting point in every larger Dubrovnik house.
Offering period character with a contemporary twist, each of the apartments are individually designed and furnished. Furthermore, we have named our apartments after the main Dubrovnik fortresses, which have preserved freedom in Dubrovnik for centuries:
Minčeta - the most dominating fortress of the city fortification system,
Lovrijenac - built after a warning from Saint Blaise about the possibility
of an attack by the Venetians and one of the filming locations for the HBO series Game of Thrones,
Revelin - a large self standing fortress today used as a night club, conference centre
and exhibition area,
Bokar - a fortress overlooking a beautiful small cove and Lovrijenac fortress,
St. John - this fortress today houses the Aquarium and Naval Museum.
Different apartment sizes offer you different comfort levels. All our private apartments in Dubrovnik, Croatia are fully equipped and ready to meet your every expectation… LCD TV sets with satellite programs, AC, all kitchen appliances you may require, large sized bathrooms. Common areas offer more space in lounge areas and there are also laundry facilities which might be useful for longer stays.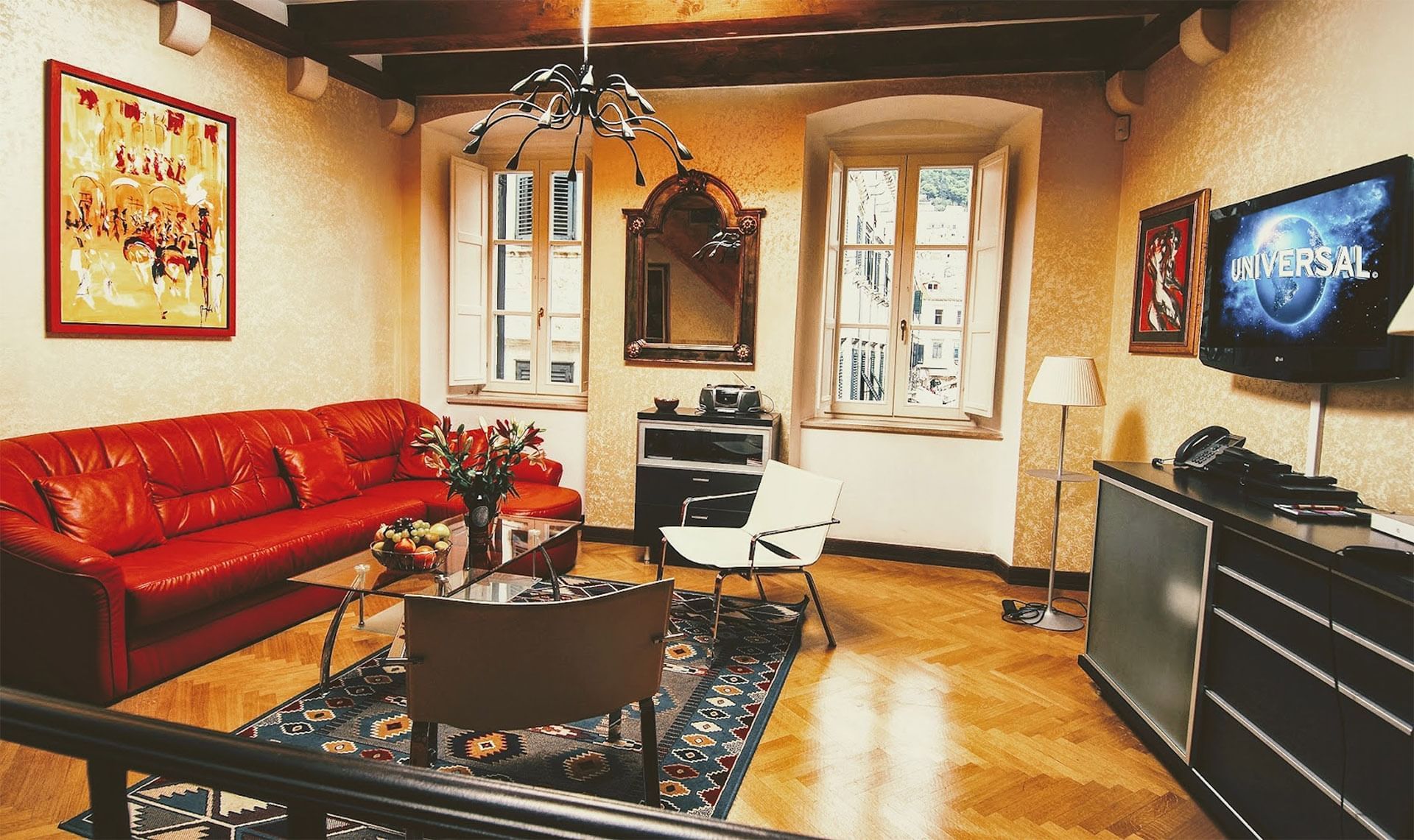 Accommodation
Offering period character with a contemporary twist, each of our private Dubrovnik apartments are individually designed and furnished, ideal for a self-catering stay in the Old Town.