Contact & Location
VILA TEREZA IS HERE
Located in Cilipi in Konavle the Villa Tereza is the best accommodation and the ideal base for exploring the region. The historic Old City of Dubrovnik is a short drive away and the stunning Konavle region, often described as the Provence of Croatia, is on your doorstep, as is the international airport of Dubrovnik making for a simple yet secluded getaway.
If you are looking for a quiet and tranquil base to explore the area with your family then Villa Tereza is the right choice for you.
Contact us at Villa Tereza
Find us on the map
DISTANCES
Nearest grocery store: 1.6 km
Dubrovnik airport: 800 m
Cilipi centre: 1 km
Nearest beach: 5 km
Cavtat: 5 km
Dubrovnik: 22 km
Rusići 2
20213 Čilipi, Croatia
Villa Tereza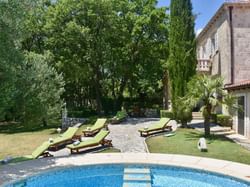 Konavle – a place in the very south of Croatia, is the most southern part of today's Dubrovnik Riviera Villa Tereza located in the lush green Konavle countryside, hidden away from the hustle and bustle of modern life offers the ideal base for exploring the region.
PERVANOVO d.o.o. za nekretnine i turizam ● MB 1867229
OIB 53640538905 ● PDV broj HR53640538905
Ivana Zajca 26, 20 000 Dubrovnik, Hrvatska ● tel: +385(0)20 362 900
fax: +385(0)20 362 909 ● info@pervanovo.hr ● www.pervanovo.com
Trgovački sud u Dubrovniku / MBS 090010440 ● Temeljni kapital 350.680.500,00 kuna uplaćen u cijelosti
Predsjednik uprave: Darko Pervan / Član uprave: Dagny Ingeborg Pervan / Član uprave: Stjepan Vojinić
Poslovna banka: Raiffeisenbank Austria d.d. Petrinjska 59, 10 000 Zagreb
IBAN: HR2024840081102601511 ● SWIFT: RZBHHR2X